As is well known by any online business, social networks and specifically, Twitter, have become platforms for promotion and even to create communities of users loyal to the brand.
The problem comes when many companies, out of fear or ignorance, have not yet decided to take the plunge. It's true that all that glitters is not gold, and we already told you in another post that there are advantages and disadvantages in this social networking.
Even so, today we want to talk more in depth about what Twitter is and how it works, so you can judge for yourself whether or not you're interested in putting your business on this social network. Let's start!
What is Twitter and how does it work for a business?
Twitter is a microblogging social network. That is, you have a limited number of characters (280 per tweet, specifically) to tell whatever you want to tell. If we're talking about business, it's used to discuss and contribute to professional conversations, as well as share content, whether it is your own or others'.
There are some terms you should know to use this social network and tool for your business. And we'll also explain  how you can use them to your advantage. So let's take a look at what Twitter is and what it's for, with all its features.

Twitter Profile
It's simply your Twitter account, as seen by others (see screenshot below). With your username, your bio, the link to your business website, the number of people you follow or who follow you, and so on. Thera's also a right column with recommendations on whom to follow, or stuff that might interest you.
Followers
These are the profiles that are interested in what you're saying, so they follow you to keep up to date with your posts and latest news. In other words, this is where many of your potential clients will be.
Followed profiles
Those people or users in whom you're interested and therefore, you're following them to know what they're sharing in their profile. Or what is the same, you can follow companies that share content and news of your sector, to be sure not to miss anything.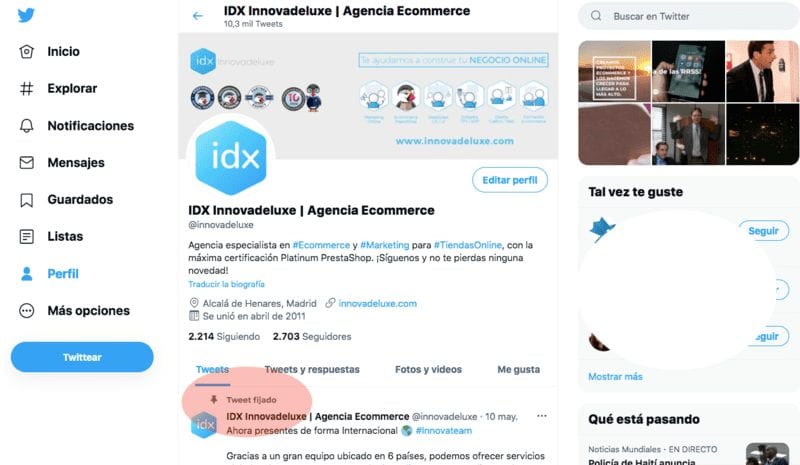 What are tweets
It's the "official" name for the messages you send from your Twitter account or profile. In them you can include links, photos, hashtags… it's important that you work the message well, and that you provide relevant content and information, as this is what will attract your followers and potential customers.
As you can see in our example image (on red), you have the option to leave a Pinned Tweet at the top of your profile. So choose the one you consider most appropriate at that moment, and make it the first thing users see when they visit your Twitter: your services, an offer, your star product, etc.
Notifications of other tweets
At the top of your profile, you'll be notified when someone has interacted with your messages. Either they have RT'd your tweet, liked it or replied to you. So it's very important that you always check them, in case you have a query from a potential customer. And if you do, you must answer it, of course.
What is a hashtag
They are tags that begin with the hashtag symbol # and are used to highlight a trend, create a brand, community, etc. If, for example, you have a costumes shop, and there's a #Halloween hashtag, it's clear that you should use it to promote your costumes as well.
In the screenshot of our example, we used 4 hashtags: #ecommerce, #tiendaonline and #marketing. Which ones you use will depend on your sector, type of business, etc. You must take into consideration what kind of audience you're targeting and also use your imagination.
Also, if you click on the hashtag or search for that hashtag in the Twitter search engine, you'll see all the people who's using it, what they say, what they think, etc. so it can serve as a mini market study.
Trending Topic
This is when the hashtag you're using is so good, or the product it refers to is so good, that everyone is talking about it. Twitter detects it, and highlights it on the left side of the screen– you've got a trending topic!
Big companies even buy them when they want to promote a big event or a product. These are the Promoted Trending Topics (it's also indicated it next to the hashtag, so you know it's "bought" and not an organic one created by the users)
Twitter Timeline
When you log into your profile, you can see all the posts from the people you follow. Be warned that if you follow a lot of people, the messages aren't sorted by chronological order, but by relevance.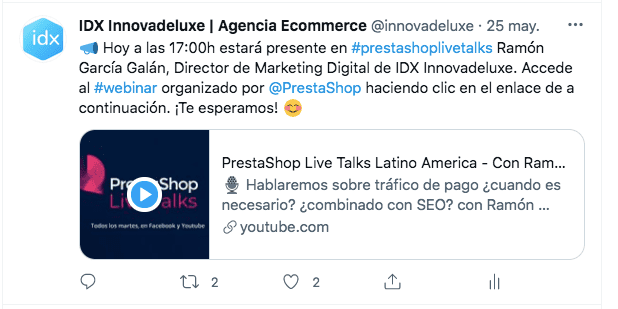 RT or Retweet
Under each of the messages on your timeline, you will see two arrows forming a square. By clicking on this symbol, you are RTing the message, which means that this tweet will also appear on your timeline even if it's not yours.
From a company's point of view, this is great for advertising. The more people RT you, the more users your message will reach and therefore, potential customers.
Like a tweet
Under each of the messages on your timeline, you can see a little heart. If you hit it, you're telling the user that you like their content. And sometimes, many people also use it to mark that tweet as interesting and read it later.
Previously, the likes couldn't be seen by anyone other than you or whoever came specifically to look at them in your profile. But for some time now, they also appear on the timeline of your followers, so these who are supposed to be like-minded and share the way you think, can see them and can also read that tweet you liked.
This has its pros and cons. The pro is that it gives you some more visibility (before it was only with the RT) But on the other hand, if you use Twitter for your business, beware of getting into trouble by liking controversial comments or tweets that can damage your image (although there's debate about this, because it can also be seen as self-censorship)
Twitter Lists
This is one of the best features of Twitter. It allows you to add profiles to lists that you create, regarding the topics that interest you the most. It's a way to segment your timeline, because if you follow a lot of people, you don't have time to read everything they share.
If you make lists, you can access each of them and it will be like a mini timeline, where you only read about the topic that interests you or the users you like the most. Also, no one has to know that you put them in a list, because you can make them private.
Statistics of your Twitter activity
If you click on "More options" on the left, you'll be able to see the option "Analytics", that will show you the activity of your tweets: the most liked, the most commented, etc. We'll explain it in more detail in another section.

DM or Direct Message
These are messages that are sent to you (or that you send) privately. You can have the DMs restricted (only profiles that follow you can send you messages if you also follow them) or you can have them open, which is what most companies usually do. This way, any potential customer with a question can ask you what they need to know in private.
Some companies use automation to send a private message to welcome new followers, reminding them or offering them their services, and things like that. Be careful with this. Some people like it and some people hate it and consider it SPAM. They might even unfollow you. So think about if it really adds value before you do it. To be honest, I don't think it has been much used for a long time ago.
What's going on?
Twitter is very smart, and it uses algorithms to determine what you might be interested in and what you might not. Based on that, it inserts advertisements in your timeline, or informs you about the latest news in the Twitter world in the 'What's happening' section, which appears by default when you go to the search bar.
How can your company be relevant on Twitter?
Now that we've seen in detail what Twitter is and how it works, what is important is to know how to use it to your advantage and get relevance for your company. We advise you to do two things:
One, that you have a powerful blog from which you can share content, linking to it from your tweets.
And two, that you show your experience in the sector by providing relevant information about it, either in your own Twitter timeline, or by participating in conversations with other users.

What is Twitter good for in the case of a company?
After everything we've told you, it's probably already clear to you that Twitter is a social network with a lot of potential. Just in case, to settle concepts, here I bring you the TOP 3 uses of Twitter for a company:
Build loyalty to your customers, as you can interact directly with them. And search/find new customers among your followers.
Once you have a good base of followers, Twitter is a perfect showcase to publicize a product, service, offer or even to announce an event.
Just like you, there are other companies on Twitter. So you can "spy" on them if they're your competitors, to see what they do or don't do (keep in mind that your company can also be "spied" on). But also to find other companies with which you can relate, and who knows, even establish synergies and collaborations.
In my opinion, this is the absolute basics you should know, although Twitter has even more terms in its glossary (don't be scared, as soon as you start using it, you get to know everything)
Anyway, if you want to know even more about Twitter for your online business or company, keep reading.
Twitter Business for your business
So far we've talked about how to use Twitter for your business for free. But like everything else, if you're willing to invest, you have many more options that you might find interesting. And that's exactly what Twitter Business gives you.
What is Twitter ads?
Twitter ads is short for Twitter advertising. In other words, advertising on Twitter. As a business, instead of just "throwing your tweets on the air", it allows you to segment the target or groups of users you want to reach, so that your message is more effective.
By law, online advertising has to be tagged as advertising. So whoever sees your ad tweet, will know that's what it is: publicity. The good news is that the vast majority of people on social networks don't perceive advertising on social networks as aggressive or annoying, so they're more receptive to your message.
The good thing about Twitter ads is that it not only allows you as a company to reach a more qualified audience, but you can also determine what type of ad or advertisement you want to launch. Thus, in Twitter ads you can differentiate between several types of campaigns depending on the goal you set yourself:
Branding and new customers. An advertisement can be simply to reach more people, so that they get to know your brand, and hopefully, they join your community of followers. The good thing is that you can segment which followers you want to reach through demographic data.
Increase engagement, that is, your followers' interactions with your messages: more likes, more RTs, etc. It's like increasing word of mouth (as it will get more people to see your brand)
Encourage views of a promoted video. Video is one of the formats that users prefer and with which they interact the most.
Promote an app. Yes, it makes sense, since the vast majority of users who use Twitter do it through their mobile phones. Ergo… it can be a very good option as a campaign. You can even launch campaigns so that if they already have your app, but don't use it, you can encourage them to use it again (Twitter calls it app retargeting)
Increase the number of clicks on links and conversions on the web.
For the latter two, you'll only be charged every time someone clicks on your link or downloads your app. Interesting, isn't it?

What is Twitter Analytics?
As in everything digital, you must take advantage of the fact that we can measure all the actions we do, and even more being an online business. That's why it's important that you use the Twitter Analytics section, which you have at your disposal on this social network for free and without having to do anything.
What statistics will you see in Twitter Analytics?
We'll explain the basic tabs, even if you don't invest financially in Twitter with ads, you have them available and they'll be very useful for your company.
Home: A summary of the most important activity of your Twitter profile per month, such as the number of followers gained, total number of RTs, number of likes..
And the featured tweet, which is the one you've had the most impact on. So you can see, for example, if there is a pattern in this regard and what is the type of message that your audience likes.
Tweets: Here you have directly a list of the messages you've been posting in the last 28 days. You can also select the date range you want. So, at a glance, you can see the engagement (interactions) of all of them, and know exactly how many users you've reached.
Audience: The more followers you have, the more valuable this section will be, as you'll be able to see the interests of your followers, their gender and even their estimated average income, among many other things! Don't tell this isn't interesting from the point of view of your online business or company.
Events: To be informed of what's going on in the world, and if you know how to use it well, it's be a tool that can allow you to plan and prepare your advertising campaigns, – or simply interesting content, – for those events in your sector that are of interest to you.

6 basic points for a company Twitter profile
"Short, concise, but to the point. A good bio is essential. You have 160 tiny letters to make a great description of your company: Who are you, what do you do? Be brief, concise and a little original if possible, so that your bio doesn't go unnoticed.
Use a profile picture. Normally we trust someone we put a face to, so in the case of a company or business, it's appropriate to put the company logo on Twitter.
Where else can they find us? Including a web address (company blog, Linkedin profile, etc.) will always add extra value to our profile. It's important to "feed back" one networks with another and provide content of interest to our followers. In this way, they won't be just "followers" of Twitter, but also followers of the blog, contacts on Linkedin, etc.
First of all, definition. It's essential to define what you're going to talk about in your profile. Therefore, an important step before starting to tweet is to find the strengths of our speech and define it. After this, you have to ask yourself: "Are we going to be a source of information, sharing third parties content? Or a creator of information but creating and sharing our own?
The ideal is a balance of both. We can't be egocentric and talk only about ourselves, our products, etc. Remember that there will also be industry news that you can share, events, specialized reports, etc.
Thorny topics. We've already mentioned this a couple of times throughout the article. Our company Twitter profiles are not private or personal. They're the face of the company. Thorny or overly compromising topics can scare away customers or give an image that we don't want, and we should consider whether this is a determining factor or not. If that is precisely what you want, go ahead. But if not… be careful.
Interact: Nobody likes to talk to a wall. If you're asked, answer. If you're mentioned, say thank you. Interact with your community, give a wink to influential users on your timeline, RT interesting content and never shy away from constructive conversation and debate.
Creating a community of users is the ultimate goal of all of this. A community that trusts your company, its services and its products.
Conclusion
We hope we've answered the question of what Twitter is and how it works, or what it's for. As you can see, there's a lot that Twitter can do for your company if it's well managed.
Because like everything else, there's no magic wand, and nothing is achieved without effort and time. So weigh up the pros and cons, and see if it's worth it or not.
So, what do you think about the world of Twitter? Do you think you can take advantage of it for your company? Let us know in the comments!