Shopify Store Design
We create your Shopify shop professionally

You'll have a Shopify shop design that really sells
We design and configure your shop to get the most out of it, making you achieve all your goals thanks to our experience in the sector. If you were looking for success, Innovadeluxe is your agency.
Shopify is one of the most popular platforms for creating online shops. More and more people and companies are choosing to start selling e-commerce with this tool.
Since 2020, this platform has grown exponentially thanks to its ease of use and a front and back office interface that is simple to understand and use in its standard version, but with brutal potential if you need much more, moving to its Shopify Plus version.
As you know, it is not always easy to do everything as you would like, sometimes you have to implement a template, modify the code to adapt it to your needs and import your product catalogue so you don't have to create them one by one manually. That is why, at Innovadeluxe, you will always have a prepared and specialised team to do it for you.
Why do you need a good Shopify design?
Once you've got your Shopify shop set up correctly, most of the tasks you'll need to perform are very straightforward. Thanks to the apps you can install and the easy to use interface, it will be your platform of choice.
Once you've got your Shopify shop set up correctly, most of the tasks you'll need to perform are very straightforward. Thanks to the apps you can install and the easy to use interface, it will be your platform of choice.
In our agency we have years of experience helping thousands of customers to configure and develop complex tasks that affect the operation of online shops.
Not only do we take care of the creation and design of your Shopify shop, but we also provide you with a beautiful and attractive design, as well as helping you to position it and make it have a lot more conversions, so you can focus on running your business.
What can you get with your Shopify shop design and creation service?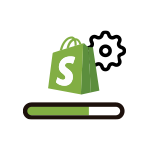 Creation
We create your Shopify shop and set up all the important aspects to make it work right the first time, so you can start showcasing all your products in the online world.
You will have a shop created by expert designers, who will do everything for you, so that you don't miss a thing, for your peace of mind.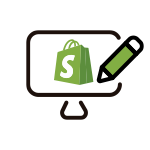 Design
After you have created your Shopify shop, our designers will get to work implementing a template and adjusting the design and layout to make it look the way you want it to. You can have everything you need, we will adapt to your needs to achieve a beautiful and effective shop that converts visitors into customers.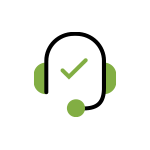 Support
The different departments of IDX Innovadeluxe will always be available to lend you a hand when you need it most.
You will have Shopify support at all times, to keep your shop running smoothly. You can continue to evolve your online shop as your business grows. We help you with the necessary improvements.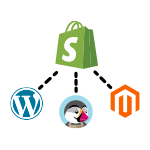 Migration
If you currently have a shop on another ecommerce platform and need to migrate to Shopify without losing data. We are experienced in performing this kind of migration between different ecommerce platforms. We can migrate from any standard platform, all the data you had before. We migrate your catalogue, customers and orders, and even other data if necessary.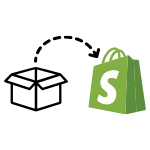 Import
If you are starting from scratch with Shopify, you will probably need to register a large volume of products to start selling. Shopify includes an importer, but it's not easy to use without knowledge. Setting up products manually is not a good option either, it will take you countless hours of work. We can take care of this task for you, you only need to prepare an excel file and we will take care of everything.

SEO
If in addition to the creation and design of the Shopify shop, you want to start positioning in search engines from the beginning, we can help you with our SEO service for positioning in Google. At Innovadeluxe, we have a team of SEO consultants ready to position your shop in the first results of Google. If you want your products to have visibility and people to buy them, our Shopify SEO service is perfect for you.
Frequently asked questions
Read what some customers say about our work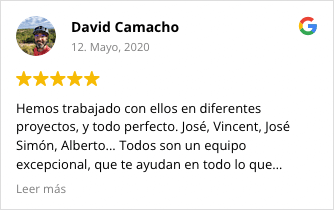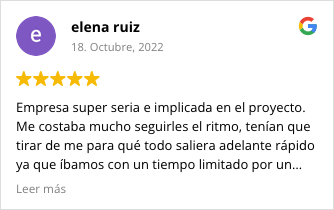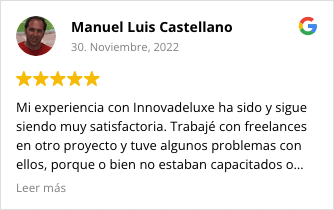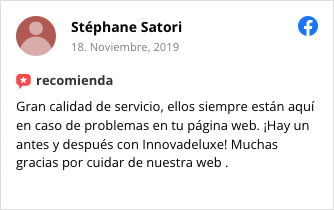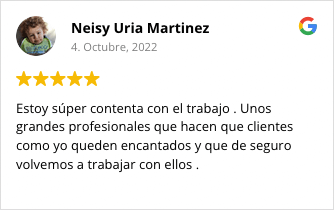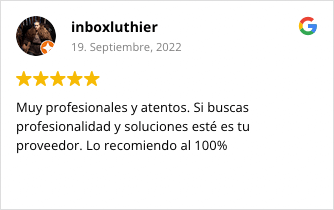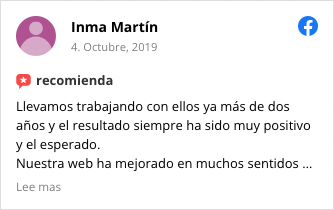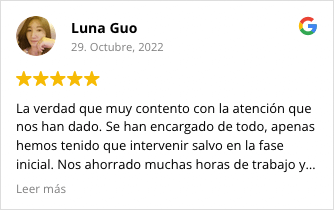 Request information
Want to design your website with Shopify? You've come to the right place. Fill in the form with your details and explain what you need to do and a strategic business consultant will contact you to advise you and talk in depth about your project to prepare a proposal.
Providing as much detail as possible about your project will allow us to better focus on it. Please provide as much information as possible so that we can help you properly.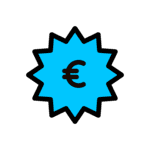 Shopify Design
The cost of your project will depend on the size of the website in terms of the number of different sections to design, as well as whether you hire catalogue imports or migration from another platform, additional applications or SEO initially included with the shop.