It has happened to all of us. We start shopping in a store, filling the cart with products and for one reason or another, finally we do not make the purchase and the order remains in the limbo of unpaid orders being our order one of many abandoned carts.
Facing abandoned shopping carts by customers is something that creates a lot of insecurity in online stores. A common problem for many online businesses. Fortunately, more and more studies are revealing the different reasons for abandoned carts, which allows companies to improve the sales process and adapt it to improve conversion rates in their stores.
The importance of abandoned carts
As explained from the company specializing in ecommerce Yoosell, as collected in his blog one of its partners, WannaSpeak, there are many reasons why consumers abandon full shopping carts in an online store.
Although a difficult navigation or a complicated interface to use, are some of the main reasons for shopping cart abandonment.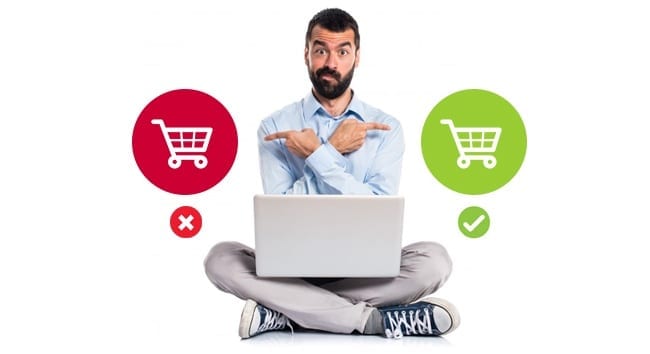 Reasons why you may have abandoned shopping carts
You can also cite the following:
Inability to save in order to validate later (24%)
The amount of the shipping costs not being visible (22%)
The impossibility of contacting customer support (16%)
Inability to use a third party payer (14%)
The amount of information requested is too high (12%)
The complexity of the payment process (11%)
Site load time (11%)
Additional taxes added (8%)
Limited means of payment (7%)
Slowness of the operation (6%)
The presence of spam offers (6%)
Numerous errors throughout the process (5%)
Solutions to abandoned carts
Let's discuss how to reduce cart abandonment in your online store.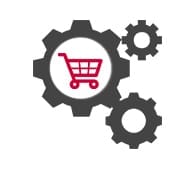 Fortunately, more and more studies are revealing the different reasons why this happens, which allows companies to improve the sales process and adapt it to improve conversion rates in their stores. We have tried to compile the top solutions that have been found:
Quality customer service

We must pay special attention to customer communication. E-commerce creates a new way of relating to the consumer, a relationship that is essential for the purchase process to be successfully formalized. Customer service is key. It must be accessible and impeccable, we must realize that it is the only "contact" that the customer has with the company so, even if it is virtual, it must provide the necessary confidence that the customer demands.

It has been proven that when the online store's customer service is available at the click of a button, shopping cart abandonment is reduced by 30%. In the United States, 21% of online shoppers prefer a chat conversation with the company's own customer support, a useful tool called Click to Chat.

But also the tool Click to CallThe tool, so that the customer can speak directly with the company, is especially effective. So much so, that it guarantees a 30% increase in the conversion rate.

The responsiveness and the need for information demanded by the user, requires companies to rethink their organizational models and a change of strategy. The importance of knowing each customer individually and building and developing a lasting relationship with them, will ensure more and better sales.

Have free shipping or discounts

Many online shoppers abandon their shopping cart because of the high cost of shipping or because the seller has made no mention of it during the entire buying process, which comes as an unpleasant surprise to shoppers. Also, keep in mind that customers are more likely to buy more products when shipping is free. More and more stores are taking on shipping costs or diluting them in the cost of products in order to offer them. Not only can you reduce abandoned carts, but you can also increase the average cart value, which is a must if you want your business to succeed.

Show VAT on products

Unless your customers are professionals, the price should always show the VAT rate and the final price, as it can be a considerable difference that makes the customer abandon the purchase. Keep in mind that the VAT for a final consumer, if it matters. Professional customers will not take VAT into account, but a final consumer does, it is important and not indicating the final price on the products until the end of the transaction can trigger the number of abandoned carts or drastically reduce the average value of your carts.

The shopping cart should always be visible

This way the future buyer will be able to see at any time the products he has already added, which will give him more security. The vast majority of online stores respect this very well, at least the stores made with PrestaShop do so, since you have a drop-down cart always visible in the header and fully accessible to the customer without having to leave the page where he is. But BEWARE, the fact that this module is usually available in all PrestaShop installations, does not mean that all templates have it active by default. Make sure of this detail, and always have an accessible cart available for your customers without having to leave the page they are browsing.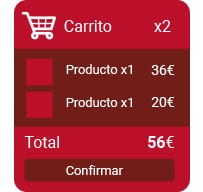 Fewer steps

This may seem obvious, but there are still thousands of stores that hinder their customers by adding an increasingly long checkout process, because they think that the customer will be able to provide better information. Well, big mistake, the buying process should minimize the number of steps and clicks so that the customer buys quickly and does not have time to think about abandoning the purchase and leave in your store an abandoned cart.

For this, the idea in every online store, is that an expert in usability and user experience, make a good conversion study in your store and see where you are failing.

the simple solution is to simply put the checkout process on a single page. In the market you have several modules that solve this, although most of them are pretty bad. If you need one of them, you can consult us or just go by the opinion of other merchants who have bought it.

Offer several payment options

We must give the customer all the possible facilities that are in our hand, in this way the ideal would be that you could pay by credit card, by conventional methods such as bank transfer or cash on delivery, by Paypal or even other more alternative methods such as Sofort, pay later to finance, SEQURA to pay after receiving the order, to pay in your physical business, etc … there are many payment alternatives, the more the better. This way we will eliminate one of the most important barriers that a consumer can encounter.

Use good images

Users value positively that the products/services offered in your online store are accompanied by a good description, but, above all, by a quality image in which the details can be appreciated. If you can't see the product you want to buy, you're not going to buy it. Would you? Well, neither would your customers. The quality of the product image is important, no, very important, we are tired of saying it in this blog.

Don't limit yourself to using the bad photos of death that your product provider offers you, do it a little and make new photos or order this work to a good professional with a space and appropriate equipment to get the most out of your products. If your customer enters your store and another store with the same products and in the other even being the product more expensive, you can see more detail and higher quality, most likely, choose to buy in the other store, even though the product may be a little more expensive.

Highlight your offers and discounts

It is very important for e-commerce to have an exclusive section to highlight discounted items, the latest stock with special prices … and, above all, this section should occupy a prominent place, well visible to anyone who enters the web.
Highlighting offers can differentiate you from the competition and ensure that the customer does not opt for another store because they have seen a particular offer.

Quality hosting for your shop

It is very common in online businesses, that when there are a handful of visitors in the store, it starts to go slow and give failures. The server on which the store is hosted does not have adequate resources and capacity to handle a high number of concurrent customers. This is the big mistake that many merchants make, they decide that the hosting of the store is not important and skimp on the investment they make in it trying to reduce its cost to the maximum. Well, I'm sorry to tell you that nobody gives euros for pennies (hard to pesetas).

If you want your store to go great and that your customers can make their purchases quickly to not leave abandoned carts, you will have to invest in a good hosting. For a PrestaShop store, we always recommend a virtual private server (VPS), which you can increase the resources as the store grows as it is a virtual machine.

If your customers browse your store and it is slow, it will take very little time to leave, some of them may not even get to add a product to the cart, you will not even know that you have not created an abandoned cart and therefore you will not even have the possibility to recover the cart because it will not exist. At most you will be able to see in Google Analytics that it has a very high bounce rate, but you won't really know why unless you are an expert in analyzing the data collected.

Don't be a fool, if when you set up a physical business, you don't rent a place in an alley with little light, ugly and dirty, which is difficult to access, but in a central street with a lot of customers, nice, well decorated and with easy access to the store, why are you going to do it in your online store. Big mistake on your part to do that.

Correct image optimization

Related to some of the previous points, there is one aspect of your store that you should take care of very well. If you have already managed to have some good product photos, don't be lazy and don't upload them without optimizing them to the store. Use quality tools to put them at the exact resolution and with the right compression without losing quality. There are a lot of tools on the market to do this, some free to do it manually or other paid ones that create automatisms to upload the images. use some of them according to your budget. We for example when hiring our VPS, we offer this free service to optimize all the images you already have in your store and then you can hire a recurring service to optimize new images.

It is worthless, that you hire a good server to host your store, if then your images take a lifetime to show to your customers because you have uploaded them without optimizing. Your customers will get tired of waiting for the images to load and will leave.

Do not forget that Google can also penalize you in search results, since the performance of your store is one of the main factors taken into account to position a website.

Security certificate

This is something I shouldn't even explain to you, but let's get to it. It is essential that your online store is protected, you must have an SSL certificate to encrypt all communications between your customers and your store, so that no one outside can steal information from your customers.
For some time now, browsers have been displaying warnings informing the customer when a website is not secure. Maybe the website is very reliable, but the browser will tell you otherwise because it does not have an SSL. The image you will give to your customers, is not appropriate, so for a small cost that has an SSL, you can not afford to give that image. Besides this is another factor that Google takes into account for positioning


Comply with legal regulations

More and more customers are becoming aware of which shops comply with legal regulations and which do not. You can not afford to lose customers because your store does not comply with the Data Protection Act, Cookies Act, cancellation regulations or any other regulations related to online sales. Complying with the different regulations in your store is not complicated, you just have to have the appropriate legal texts and also meet the necessary technical specifications. For the latter, you have several modules for PrestaShop that can help you achieve it. For the legal texts, you should consult a legal advisor to help you adapt your company to the LOPD and register with the data protection agency.


Launch trust signals

Related to the above, a good idea to reduce the number of abandoned and therefore unfinished carts in your store, is to show your customers that you are a reliable company. There are several ways to achieve this.
You can put trust seals on your website, from one of the main entities that certify that you comply with all regulations, such as Confianza Online or iCert, we recommend Confianza Online because it is the best known and customers will quickly associate the logo with them.
You can also have verified reviews and opinions on your store
.
But BEWARE, verified by companies external to you, as customers are not stupid and know that reviews can be manipulated. They must be managed by external companies. For this you have many alternatives, for example you have Verified Reviews or eKomi, for free you have Yotpot (social media reviews). Customers look for reviews from other customers before buying and if you have good reviews you will get more sales, if the reviews are bad, customers will abandon your store and leave the carts hanging


Sending automated emails

Remind users of their abandoned carts. Sometimes, just because a customer abandons their shopping cart, it doesn't mean that the transaction is over. Through emails, for example, you can address your customers to remind them of the purchase they left pending.
You can use the service to send automated emails when a customer does not finish their purchase, including the image and description of the product that the customer has been looking at or has put in the cart and inviting them to return to finish the purchase. The design of a strategy segmenting customers and offering different incentives according to the amount entered in the cart allows to optimize the use of promotions and get the maximum benefit from the budget allocated for this purpose. But this strategy can have negative results if it is used in an irresponsible way, becoming spammers that annoy your customers when they were just "taking a look".

Follow these tips, and your carts will have a lower percentage of chances of being abandoned. Don't underestimate consistency and dedication, and you will get your results.
Remember, we can help you improve the usability of your online store, we can help you optimize the checkout process and the performance of your e-commerce. Contact us and consult us.
*Part of the information in this article has been extracted from: ecommerce-news.es