Having a good strategy defined in organic search engines is very important, since SEO can be complicated but it's necessary to reach the top positions in the search results or SERPs.
But creating and implementing a strategy without tracking and measuring the results is wasting time and money.
It's absolutely needed to measure in a very concrete way all the impacts of your strategies, to know if you're going in the right direction or on the contrary, if you must to change your approach. In other words, it's essential to know if you're meeting your goals.
In this way, it's necessary to clearly define which SEO metrics you want to monitor.
Pages indexed by Google
This metric is completely necessary since our SEO strategy depends on it. It refers to our domain's pages that Google has indexed.
We can check it quickly by typing in the search engine site:mydomain.com . And even better, in Google Webmaster Tools (Google Search Console) we can find a report in the Google index > section indexing status.
A good practice is to position a target keyword for each URL in our website. By doing this, we'll have more chances to index more URLs so we can rank by them in the search results.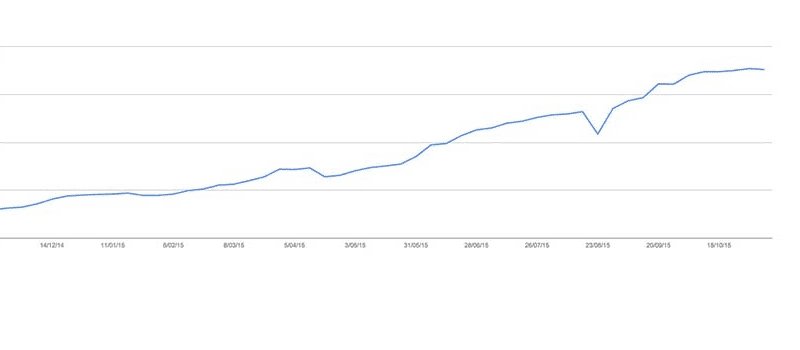 Organic Search Traffic SEO Metrics
Search traffic is one of the most interesting SEO metrics and should always be present in our organic positioning measurements.
The Webmaster Tool or Google Search Console can provide it if it's linked to your website. In the main menu we go to Search Traffic/Search Analysis.
In this panel we'll find an overview of this SEO metric, i.e. what keywords users use to access your website.
This way we can see how many queries are being displayed on our website, with a breakdown by number of impressions, clicks, CTR (click through rate) and even the average position we are in.
In addition, we can compare all these metrics with the previous period that we can select and see the variation of all of them.
Keywords Ranking
Keywords are the mainstay of SEO positioning. Analysing and monitoring their positions is one of the most important SEO aspects.
The most important thing is to be able to evaluate if the keywords we're using to position are bringing us organic traffic.
It's necessary to perform a keyword ranking with the target words you're using for each page or entry of your website, which allows you to see if you're optimizing the right keywords.
Once you've identified the keywords used for each page or entry you want to position, it's time to "track" or "monitor" them to know in which position is your website for those keywords.
You can use Serpfox or Pro Rank Tracker, these tools are free. Enter the keyword you want to position and the corresponding URL, and the tool will show you if you have it well positioned or not.
Keywords that are giving us traffic
It's mandatory to know which keywords are giving us more traffic to boost them or if some of them aren't giving us traffic and we should delete them.
Google Analytics, a free Google tool, if being linked to the ownership of your web domain, it can provide us with this data. Once we enter Google Analytics, we have to follow the route: Acquisition / Search Engine Optimisation / Queries
Here you can evaluate how many times the keyword has been typed in the search engines, the number of clicks on your pages, the CTRa of each of your pages and the average position of each page
On the other hand, in the landing page section you can see which URLs have the most visits coming from organic searchs.
Organic Traffic
It's essential to know how much traffic to our website is organic, i.e. is produced from free searches on Google and also segment it between the different channels.
Visits
This is one of the SEO metrics of organic traffic. Google Analytics allows us to see user visits, visits per page, session time, returning users and bounce rate
Open the Google Analytics tool and go to Audience/Overview, in turn you can add segments, for example to compare organic traffic with total traffic.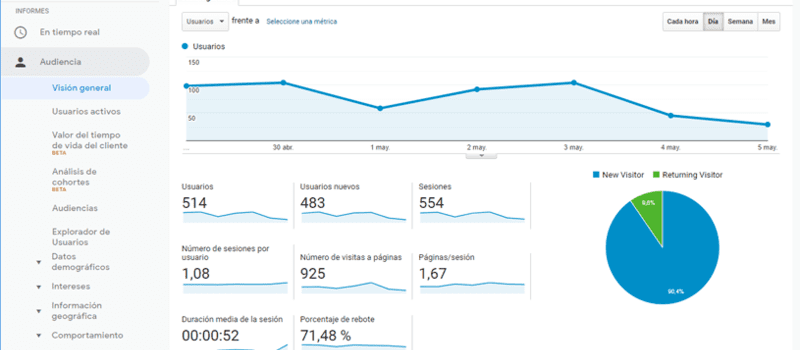 Time
Time spent by users on the website is a determining factor for the positioning of your website, since Google likes websites where users find what they want and stay for a long time.
To increase the time users spend on your website you must offer quality content that provides value, making strategies that allow users to keep and not be diverted by external links or very direct CTAs.
Google Analytics in the section of Behavior/Overview will show you the pages that have more visits. If you click on "view the entire report" you'll see all the pages sorted by traffic volume.

Pages by visits
In general you want to keep users on your site and not leave at the first chance, so you need to have a good navigability and have internal links so that users can go from one content to another.
To see if you're doing it correctly you should measure the number of pages per visit of your users. To see this, in Google Analytics you can go to Overview/Average Audience section of pages per visit that your users see.
To see the traffic per day and not just an overview of each keyword, click on the Keyword box and then on the Include Graph button.
Recurring users
The number of returning visitors, – i.e. those users who visited your website once and then come back again, – is a very important SEO metric and is highly related to the engagement you create on your website.
You can check this data in Google Analytics, in the Audience Overview section as well as in Audience/Behaviour/New vs returning visitors.
Bounce Rate
The Bounce Rate is an SEO metric that clearly shows us if users like the content of our website and want to interact with it.
We need to see the bounce rate of each page we want to position in order to compare and know which ones we need to improve.
With the Google Analytics tool we can see the bounce rate of each URL in Behaviour/Site content/All pages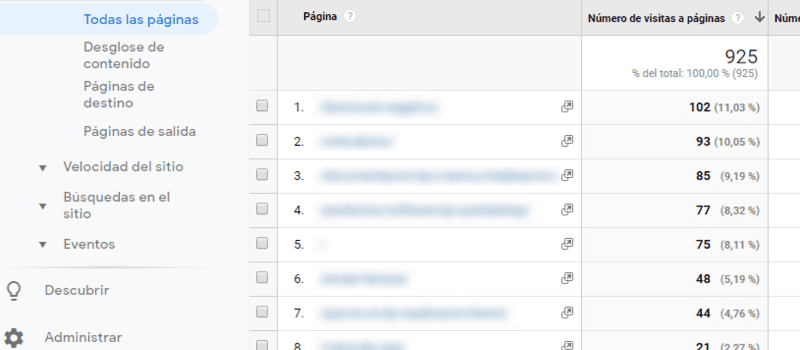 Organic Conversions
This metric refers to the measurement of Conversions, the visits coming from search engines, according to the objectives previously set.
In Google Analytics you have to go to the Administrator/Objectives panel. In this panel, you'll create the organic objectives of your website, such as buying a product, subscribing to the Newsletter, downloading a document, etc.
Once you have defined these goals, to measure and check if they're being met, you should go to Conversions / Objectives / Overview.
At this point we'll have to create a segment to see the organic visits that have met any of the objectives, so you can see which pages have met the objectives set and act and optimize those that haven't.

Backlinks
Backlinks are one of the most important factors when it comes to positioning a website, accounting for up to 70% of the positioning.
The links that point to our website are what we call Backlinks. The more we have and always of the best quality, the better we'll be positioned by search engines.
It's absolutely necessary to have a good LinkBuilding strategy to get natural links of high quality. In addition, we must always analyze and measure them to know if we're doing well or not.
Tools like Ahrefs, SEMrush, or the MOZ extension will allow us to know the characteristics of these links and their quality.
Internal links
Internal links are links between the pages of our website, with them we give resources to our readers and get them to read our content and increase the time they spend on our website.
The internal links that we want Google to crawl must maintain a relationship with the theme of our website, distribute the authority of our pages and improve the user experience.
Links to external pages
Another important SEO metric for positioning and that we must measure are the links that we place pointing to external websites. Google likes it when we link to external sites because they provide additional information of value and quality.
These external websites must be closely related to the theme of our website and provide quality to the user.
Page Authority
The authority of the page is an SEO metric that is falling in importance within the algorithm by which Google is governed, but it's still advisable to review it and see if we're improving.
Conclusion
So this is the list of some SEO metrics that I consider essential to measure the positioning of any website.
Metrics are just numbers, so it's necessary to understand them completely, put them into practice and monitor them constantly, with the intention of improving them and optimize them to the maximum to improve our SEO positioning.