Since April, the new Instagram Shopping technology has been available, or in other words, the possibility to sell through Instagram Instagram. This solves one of the problems that the social network presented for online stores: not allowing clickable links.
It's true that it allowed them in the bio, which was where we had to redirect everyone in case they were interested in something we showed them in our profile. Which, let's face it, was a pain.
Especially because Instagram is a perfect showcase, as its content is based on photographs, which could be (and are) those of the products in our store. Well, now we can link from the photos! We explain it to you.
What is Instagram Shopping?
It's the solution to the aforementioned problem: you can now put links to your ecommerce products on Instagram! Thanks to this new technology, if you have a business account, when you upload a product photo, you will be able to tag it with the price and redirect to your online store for the purchase.
Not only will you be able to sell, but in the bio you will be able to put a contact button, access metrics to know how your strategy is working or put a link to the map with the address of your physical store (if you have one).
Of course: Instagram Shopping only works on mobile phones, not on desktop computers. So don't panic if you are one of those people who also look at Instagram from the PC and you see that the sales tags don't appear.
What requirements do I have to meet to sell on Instagram Shopping?
There are not many, but they are fundamental, and it is essential to meet them all.
Updated Instagram
You must have the latest version of the application installed, so that the option to change from personal profile to business page appears correctly.
You must have at least 9 publications on Instagram
Otherwise, the buy button will not be activated. As you can see, it's not an insurmountable obstacle at all. But we tell you this so you don't go crazy if you see that you're doing everything right but there's no way "it's working".
Selling physical products
At the moment you can't sell digital services, only physical products and services such as clothing, furniture, decoration, stationery, travel..
And of course, to be able to sell, you must have a business Instagram profile, as we told you before. And how do I do this? Very easy, read on.
Steps to set up your business profile on Instagram
The only thing you have to do to activate your business profile on Instagram is to go to Settings Change to business account.

You will then be asked to fill in your Business Profile details:
Phone number
Your email address
Location
This way, customers will be able to contact you through the aforementioned button that will appear on your profile.
After Stats and Promotions, the next important step is to link your Instagram profile to your Facebook Page: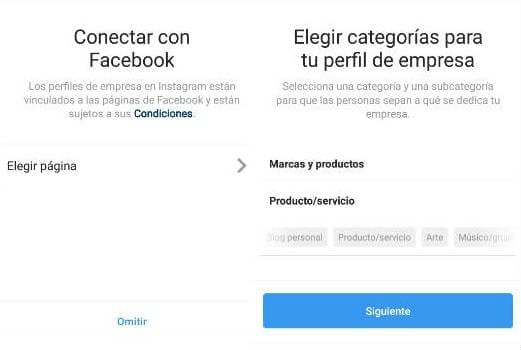 If you have more than one Facebook Page, it will give you the option to choose. And BEWARE, because in order to use Instagram Business, you must link it to Facebook (we'll explain why in the next section).
Choose a category for your business:
TV Show
Personal blog
Products and services, etc
And the next thing you'll see is a screen welcoming you to your new business profile.
How to upload your catalog to Instagram Shopping: connect with the shop on your Facebook Page
This is what we wanted to tell you before: Instagram Shopping goes hand in hand with your Facebook Page store, which you have to connect to your Instagram account.
If you don't have a shop on your Facebook Page, here's a step-by-step guide on how to create one. Otherwise, after creating the business profile as explained in the previous section, you won't be able to tag any products in the images you want to upload.
That said, you have two ways to connect your Facebook store with your Instagram business profile:
From ecommerce platforms like Shopify or Bigcommerce, there is a direct link that allows you to connect Facebook and Instagram quickly and conveniently. If you use PrestaShop, when you export your catalog to Facebook, you'll have to rename the fields so that they match those of the platform.
Or, from the Facebook business manager catalog(here you have the step by step on how to create it). In this case, Instagram will review what you want to upload and in a few days it will confirm if it accepts it or not.
Start selling with your Instagram profile!
Now that you've integrated your store's catalog on Facebook in one of the two ways mentioned above, you can put the links to sell your products on Instagram. Both in specific images and in image carousels. How do we do it?
Create a post as you've always done.
But now a new option appears: Tag Product. Click and choose where in the photo you want to put the tag.
From Account Settings in IG Products choose the product you want to sell associated with that image.
Publish the image, which already has all the information integrated along with the purchase tag. You can tag up to 5 products per image.
Once you've uploaded a product, you'll see a shopping cart in the top right hand corner of your Instagram profile, and your users will be able to buy. Your users can now shop. Yay!
How does the shopping process work on Instagram Shopping?
For the potential customer, the process is very simple and not at all intrusive, as we all hate pop ups or being sent from one place to another. Here the idea is that the user does not leave Instagram until the last moment, when they have already decided to buy. Thus having a positive customer experience.
We give you an example of the process in images, from the Instagram Shopping of Sketchers, the first company in Spain that used the possibility of selling on Instagram. And we detail you below the complete process.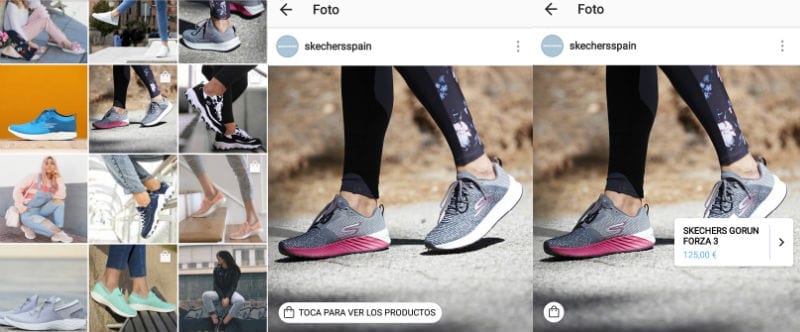 Let's get started:
Photos that have products tagged appear with shopping bag icons.
The user will see photos that appear with a clear message at the bottom: "CLICK TO SEE PRODUCTS".
When clicked, a label with the name of the product and its price will appear on the photo.
If the user wants to know more, they should click on the label and they will be redirected to another Instagram page, where they can see the name, price and description of the product.
On that other page, if he clicks on "Buy", he will land on the company's online store and from there he will be able to make the purchase. NOT on Instagram. All purchases are made on the company website.

Conclusion
If you don't have a catalog uploaded on your Facebook store or any ecommerce platform, it may seem a bit complicated, or that you have to do a lot of steps to be able to sell on the blessed Instagram.
But think about it: it's free, and it's one more channel of exposure. Besides, once you have your catalogue done, it's as easy as uploading a normal photo.
What is very important is that you keep in mind that the images you upload must be of good quality and catch the user's attention. Because they will be the hook for them to buy from you, so take a look at these tips.
Doubts, maybe you're already using it? Do you think people are really going to buy through Instagram, or it's not going to take off the way you expect it to?