Starting a business is a brave thing to do and it brings many daily learnings. One of them you probably already know. And it is how important Digital Marketing is, the benefits it brings to businesses that invest in it and how it is one of the most relevant success factors of their current success and survival, both for those new businesses, and for those who are in full digital transformation. Do you want to know more about the benefits of investing in Digital Marketing? Keep reading, because in today's post we give you 5 reasons to invest in Digital Marketing.
What is Digital Marketing
Digital Marketing is composed of different strategies that rely on the use of technology and the Internet to achieve the marketing objectives of a business.
Not only does it not displace Traditional Marketing, but it complements it and above all it helps the company to adapt to the new forms of current sales, such as online sales. In addition, it helps to adapt to the new behaviors of today's consumer, known by experts as "Smart Consumer", who is constantly searching the Internet before buying, is informed and therefore, if you are not on the Internet, for him it is likely that you do not exist or the image he will have about you will be worse.
Digital Marketing consists of different areas, such as Web Design, Search Engine Optimization (SEO), Online Paid Ads (SEM, Social Ads), Social Media Marketing, Email Marketing or Content Creation.
All these areas are necessary for the proper development of a current business that wants to be adapted to the conditions of an increasingly digitized market, however, depending on the type of business, we will see more enhanced some areas than others.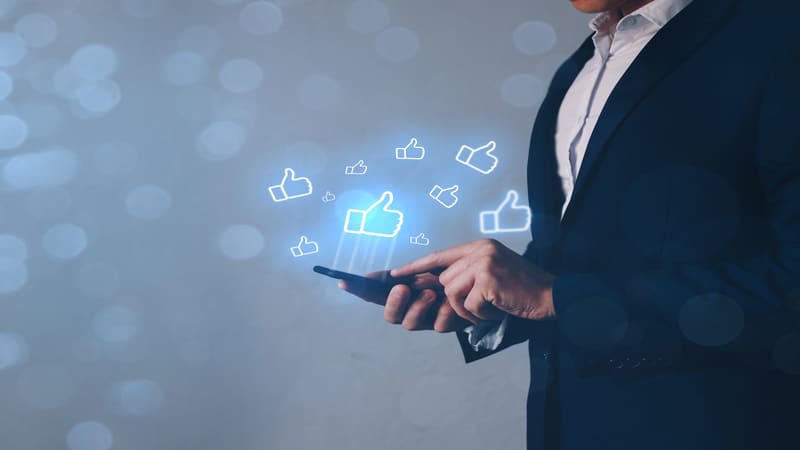 Increased visibility of your business
One of the main advantages of investing in Digital Marketing is that practically immediately, the visibility of your business will increase and this will also be greater over time.
Thanks to a good SEO strategy, you can be in the top positions of search engines like Google, making users searching for terms related to your brand, end up visiting your website.
Not only does SEO increase the visibility of your brand, online advertising campaigns developed by SEM experts will do the same. The same happens with the visibility of your business in other places such as Social Networks or Email, and with a good strategy and a good implementation, your business can be present in a professional manner in these media, significantly increasing its visibility and giving rise to the other advantages that we tell you below.
Increase in the number of clients
As you would expect, an increase in the online visibility of your business leads to an increase in the likelihood that those new users who have known your brand, become customers.
Creating a website is not going to instantly bring you new customers. But if you add to that the implementation of different Digital Marketing strategies, everything changes.
As soon as you start to implement the different Digital Marketing strategies, you start to get new users who not only know your brand, but also learn about it, start to establish a relationship of trust and therefore end up converting.
Think of the number of new users who end up becoming customers if they find your website easily in search engines or also remember your brand with Remarketing strategies. Think also of those users who can convert thanks to knowing about your brand when they are reading their email or when they are on Social Networks and you provide them with quality content.
Quality content is important, because you not only have to remind them that your products or services are what they are looking for, but you also have to make it clear that you are a brand that matches their values and in addition to selling, you want to provide them with something more.
Improving your brand image
In relation to the above, the improvement of the brand image is one of the most important benefits when investing in Digital Marketing.
Digital Marketing experts not only work to make your business get more customers, but they work to make your brand have a positive digital presence for your brand.
The content of your blog, the content of your newsletter or your social profiles, not only serves to show users who visit you what you can offer, but also provide them with valuable information, which will help create a favorable link and therefore customer loyalty.
Not only do we want them to buy, we want them to trust us, to be satisfied, to recommend us and above all, to repeat. And for this, the creation of online content is a great ally.
On the other hand, thanks to the digital presence of your brand you can get in touch much more easily and closely with your customers. From being able to attend them personally by Email or Social Networks, to being able to communicate with your audience in general.
All this will help you connect better and humanize your brand.
Greater resistance to change
In today's world, where there are constantly new changes and a growing trend towards online shopping, it is not surprising to conclude that investing in Digital Marketing helps to better resist the changes that are taking place.
Many businesses end up making heavy losses due to changing consumer behavior, which they fail to detect in time because they don't have enough data.
Luckily in Digital Marketing we can measure in real time what happens with our business, having more control of what happens, being able to make decisions based on that data and benefiting the business, both digitally and physically if we also have a physical presence.
Also, think that by investing in Digital Marketing, you will have a website or online store that will be open 24/7, so any changes in the physical market will not affect so drastically to your online store.
You are investing in the future
We are constantly reading studies that indicate that the future is on the Internet, that it has not only arrived to revolutionize the way we shop today, but that it is here to stay.
More and more companies know that investing in a professional digital presence is a vital part of their business, so when you invest in Digital Marketing, think that you are investing in the future of your business.