The Bing search engine is, in our opinion, a great forgotten search engine in SEO strategies. Yes, it's true, its penetration rate is nowhere near as high as Google's 92% worldwide. But being the default search engine of Microsoft and Amazon Echo (Alexa), we shouldn't lose sight of it.
Which is why, in today's post, we're going to dive into detail to learn about the "edge search engine" and how it can help us in our SEO strategy.
What is Bing? Definition
Bing is an Internet search engine, specifically one of the alternative search engines to Google. It is, in fact, Microsoft's search engine, which has been around since 2009, replacing its predecessor, "Live Search". That same year it also replaced Yahoo's search engine, when the two merged. This means that if someone is searching in Yahoo, they're actually using Bing.
Currently, according to studies conducted by StatCounter, the Bing search engine has a worldwide market share of 2.32% (as of December 2019) and although it seems a ridiculous figure, that places it as the second most used search engine after Google.
For instance, in Spain the Bing search engine is above 8%. And watch out if you plan to do international SEO, especially if you are going to sell in the UK or USA, because over there, it has a share over 20% and 30% respectively.
In fact, we leave you with the data provided by Comscore in 2017.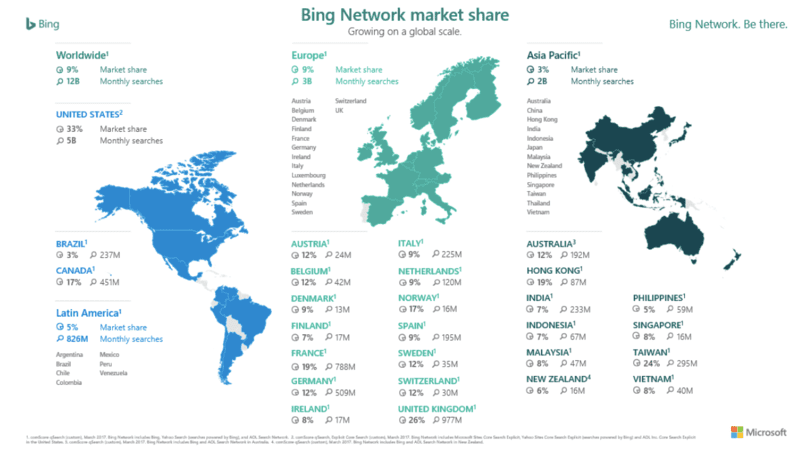 Don't you think it's worth getting to know Bing a little better?
Bing search engine features
The truth is, if you open the Bing search engine and compare it with Google, in terms of usability, there are apparently no major differences, but let's break it down a bit.
Unique features
As soon as you access Bing, you see a big picture. That's because Bing places a different background image every day, each one more spectacular than the one before. And if you scroll down, Microsoft's search engine shows you the most recent photos that have been used as background.
At the bottom of the home screen, it highlights current news that it considers relevant.
If you use Chrome, the home page of the Bing search engine includes an extension that allows you to customize it.
Very eye-catching is its "rewards program", which you can access through an icon on the home page. The "Microsoft Rewards" consists of accumulating points for searching and performing actions through the brand's tools. If you have an Outlook email account, you can access the program directly by logging in to get more information.
Bing allows visual search (by images) from its main screen, while with Google you have to go to the image option. In addition, Bing allows you to narrow down a part of the image if you are only interested in searching for that specific object and its search results highlight mostly images, not links.
Bing vs Google comparison
Now let's compare several searches, performed on both Bing and Google, to see if there are big differences in the respective SERPs. For example, we start with a very general search: "rivers".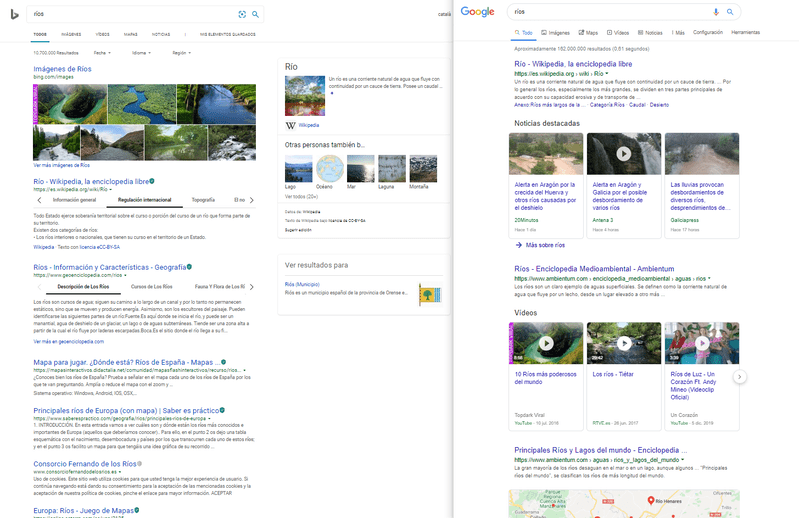 We can see that the Bing search engine has its own rich snippets, but instead of presenting them as an accordion, they're introduced as a carousel. If you search Bing for "rivers" and scroll down, there are actually two sliders, interspersed with the results. They integrate nicely with the organic results, so visually they don't break up the listing as much.
If you are working on positioning videos, Bing shows them in a much more striking way, since it displays them in a grid, as it does with images, and not in a list, as Google does.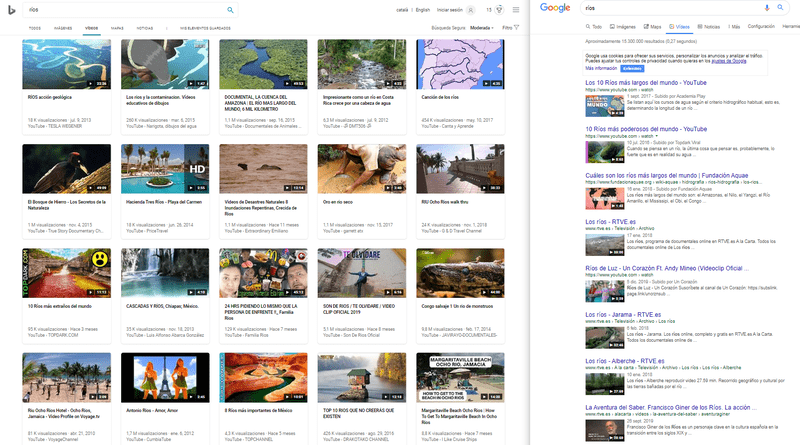 If we search, for example, for "climate change", looking at the two SERP,s we have different results and we can draw several conclusions.
By scrolling, you can see that Bing offers fewer organic results: 6 versus 8 for Google.
Different position of paid ads: Bing also takes advantage of the space under the rich results.
Related words in the case of Bing are 20 in total, compared to 15 for Google.
Otherwise, both also offer Featured News and Related Searches at the bottom of the page, as well as Related Videos.
Be careful with the search intentions, because they're different in Bing. For example, we search for something as generic as New Zealand. While for Google it shows as an informational keyword, Bing interprets it as a more transactional one and triggers travel-related shopping ads. In fact, the page is mainly filled with Bing ads, as the first 5 results are ads.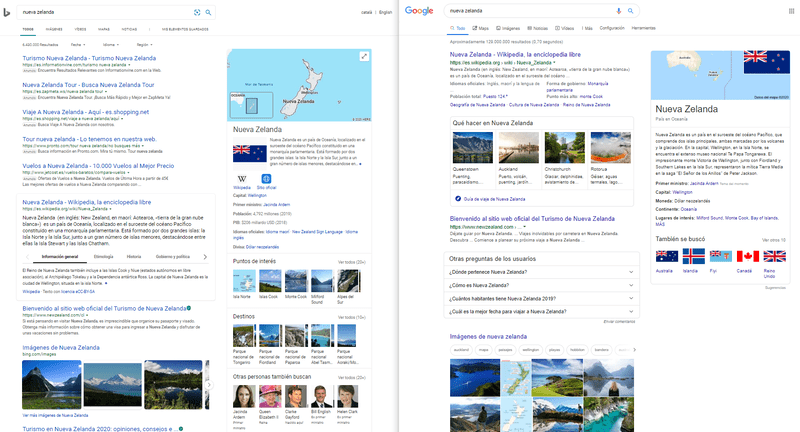 If you decide to do SEO on Bing – we'll talk about it at the end of the post – I encourage you to make tests in this regard, and see the different results for the same keywords, so you can better hone in on what you want to see or are going to get on each search engine.
Advantages and disadvantages of Bing
Considering that the general guidelines are not so different from one search engine to another, the rest depends, as always, on the color of the glass through which you look at it. If we look at it from the point of view of websites or e-commerce, there is something for everyone.
It doesn't give so much importance to mobile design yet, which is a disadvantage in the sense that the majority of users, in many cases, come from mobile. Although the pages that don't yet have a good mobile design but do have a good PC design, will see this as an advantage.
If you have a page with an old and well valued domain (with a good reputation) you will have preference over pages that are more recent. In theory this is something that doesn't work like that in Google, but it's true that many SEO experts have commented here and there about the domain's age that the longer it is, the better.
A good brand reputation in social networks, with many interactions, are signals that the Bing search engine takes into account for positioning.
Also, it's been said that Bing search results compared to Google are lower in number, but higher in quality. True or false? Go to the next section and we'll give you a clue.
Doing SEO on Bing
Although it is not a widely used search engine, Bing offers an interesting aspect. And it is that in many cases, we have data in which we see that whether it is a consolidated business as if it is starting, the conversion rate in Bing is higher than in Google. So maybe yes, indeed, the results are of better quality.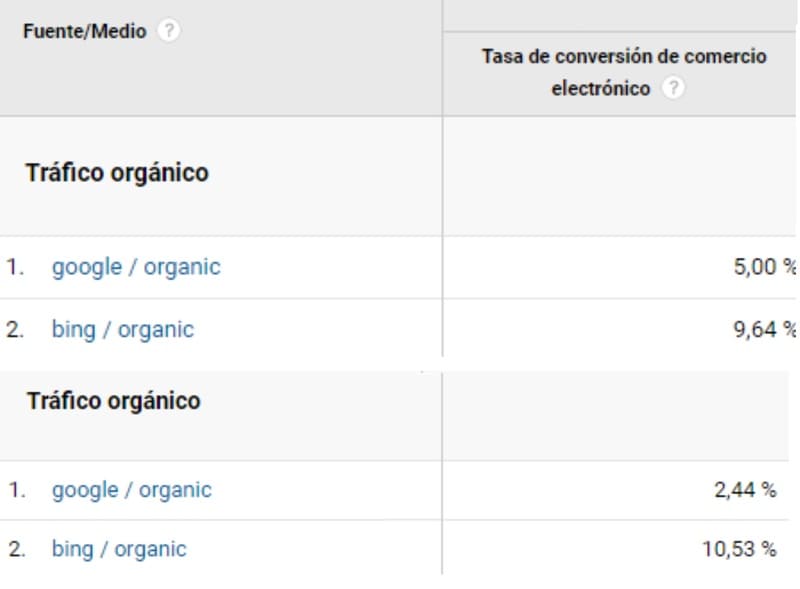 From all the points mentioned previously, we can already draw some conclusions:
The images positioning offers a better user experience, by giving them prominence. So don't hesitate to work on image SEO in Bing.
We understand that your main target is Google, so you should work on mobile design. But for positioning in Bing, it's not so important.
The older and better valued your website, the easier it will be to position it.
Some keywords that don't activate ads in Google, do so in Bing, so the visibility of organic results decreases a lot.
The search intent is not the same in both search engines, so pay attention to the use of keywords.
Related to the above, your competition may also vary in one search engine or another when you search for the term that defines you: "Lingerie store" "Online toy store", etc. And let's not forget that Bing has its own algorithms, as well as its own guide for webmasters where it tells you in detail what you should do to have a good position in its search engine.
Actually, much of what you do for Google works for Bing, but since Bing is more permissive, it will be easier for you to rank there. For example, let's talk about link building or getting external links. In Bing, anchor texts with exact keywords work better, while Google gives more importance to quality links.
Something similar happens with domain names. For example, if you search for "online pet store" in Bing there's a store with that exact domain name in the TOP 3, while in Google it doesn't appear until position 7.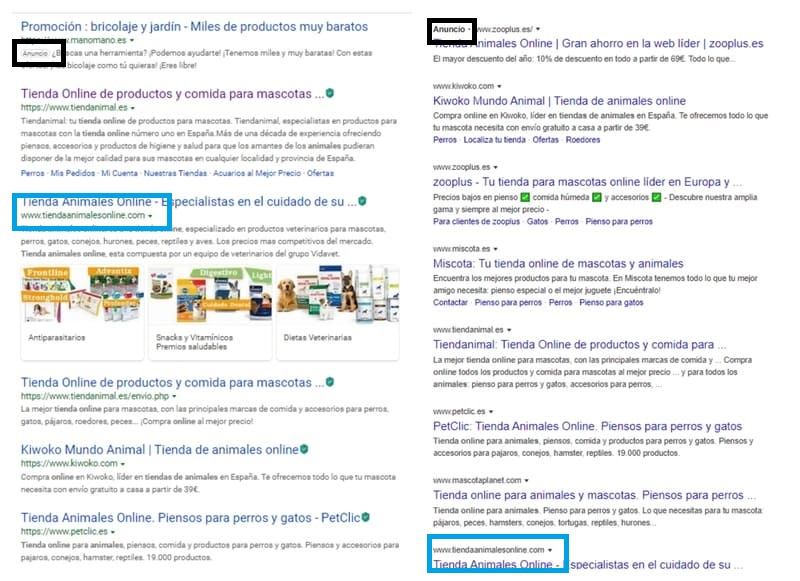 Obviously, whatever the search engine, don't forget that the content must provide value to the user and it must be well structured, as well as having well-crafted meta titles and meta descriptions.
Of course, you have to include data tagging and as we have discussed in the advantages. If you have good network management, it will help you rank. Or so says the study "Ranking Factors 101" by Search Metrics.
Finally, and very important, is to configure Bing Webmasters Tools, since from this tool you'll be able to perform several actions, as it happens with Search Console:
Give instructions for the crawl frequency
Send a sitemap
Make a keyword analysis
And more
But to really know all the juice you can get out of this positioning tool for Bing, the best thing to do is to register. They make it really easy, because if you already have your site registered in Google Search Console, you can directly import it.

How? You simply get a drop-down list of Google Search Console sites associated with the account you have registered (remember to do it with the same Console) and from there you choose which one you want to add to Bing Webmaster Tools. You will immediately have it in your Bing control panel and you will be able to start configuring it.
Conclusion
Every journey begins with a first step. And in the case of Bing, as much as it may seem to you that it's not worth it because it has a small slice of the pie, don't underestimate it. Whether you have an ecommerce or a blog, why not try to reach as many people as possible?
So don't think about it, just give it a try. After all, with everything you've been working on to get on Google, you've already gone almost all the way. Give it a try, and tell us all about it! And don't forget that if you want to know more about Bing, you can visit its help section.