The big commercial brands spend a large part of their advertising budget on putting together a good catalogue of products that, at the same time as showing off their seasonal products, seduce and attract customers their seasonal products, seduce and attract customers to their products. As Zalando does in the examples below.
However, most small and medium-sized merchants don't give it the necessary importance, and end up using PrestaShop's default catalog templates, using images taken from the Internet (all different) and a poorly prepared visual presentation.
On the other hand, there is no point in spending money on a professional design for our prestashop storeif our product catalog does not generate any confidence The important thing for a customer is not that they come, is that they come backBut how do we get it through the product catalog?
What not to do in your product catalog
The catalog of your prestashop store is, so to speak, the showcase, and for the customer, the real content of your online store. Everything else (the homepage, the design, the cart, the added service…) are the wrapping of what you really sell: Products.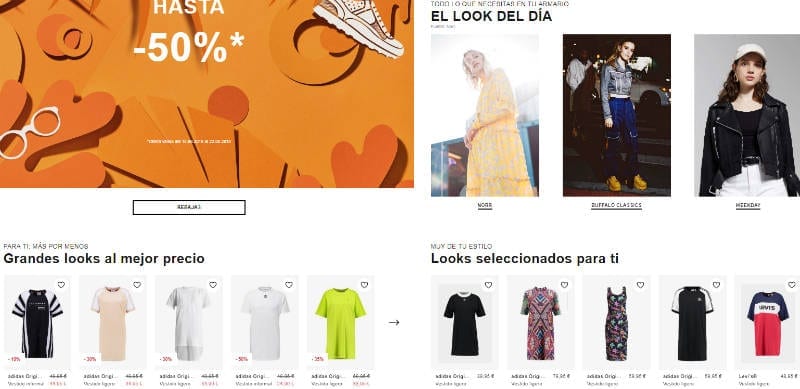 When the user enters a category, they will see our products, which are what they are looking for and our opportunity to "hook" them. So don't, a mere list of pictures of products that the supplier gives us, is not attractiveWhy? Because we are telling the customer that
(a) We don't bother with the presentation of what we sell.
b) We don't know how, or we don't want to do it better.
And to do it better is not to assemble a huge cataloguewith information that practically no one reads, causing infoxication and overwhelming, causing infoxication and overwhelm. Because your users will run away.
So, what can you do? How do you create an attractive, optimized and functional product catalog?
Tips to make a good product catalog in your PrestaShop store.
Patience and planning for a good catalog
Yes, this is our first tip. Take your time. Think about it. Do your research. Plan. Organize. Because the time spent planning how to do it, will be much less than the time you will spend "patching" the mistakes made by not organizing properly.
Presentation of your product list
To achieve the most attractive product presentation as attractive as possible we must take into account several considerations – which you will have to think about, you see – and that we detail below, because they will be essential when planning our catalogue
How do I want to present my product?

Am I going to use a professional photographer?

What kind of background will I use?

If I sell clothes, will I show the garments with or without a model?

How many products will appear on each page/row/column?

How many photos will I include of the same product?

What perspective is best for the photographs?
And as it is as important what to do as what not to do, we recommend you to read our tips on how NOT to take pictures of your products
Okay, now we know how we want our images. Next step!
Structure and content of your PrestaShop catalog
In terms of structure, PrestaShop stores offer the user the possibility to group by categories all those products of the same branchwhich is essential. And although a priori it may seem obvious and easy, the mental map of each person is not the same. So make sure that your categories follow a logical grouping
For example: if you have a bike shop, you could have a category for country bikes, city bikes, folding bikes… but also one for odometers, another for baskets, etc. In fact, you must create a category as soon as you have at least 2 products with similar characteristics..
In addition, the products in the same category must be comparable or interchangeable. This is a great advantage, because by allowing Prestashop to compare products with each other, we facilitate the decision making of the potential customer and can increase our sales ratio.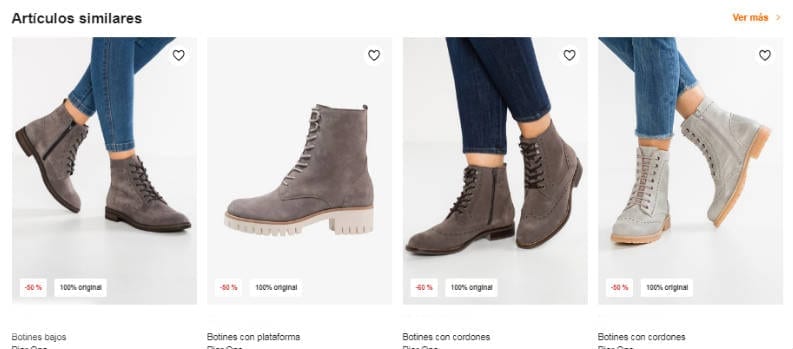 If we talk about content, in the product itself we must include the necessary information so that the visitor has all the relevant information about it. Of course, if they are not our own products, we must include the name of the brand and in this way, the visitor will be able to access all the products of this brand through the tag of its category, for example.
Also try to respond to the customer's needsTell them why they need this product, what problem it will solve or how it will make their life easier. And then give them the technical details, but don't forget that the customer wants that product for a reason. Talk to them about it!
If you keep reading, we'll cover this topic in more detail later in the article.
The navigation of your online store catalog should be simple. Don't go crazy with 50 products and 15 subcategories. Make a logical logical categorization for the userand also add attributes that allow you to filter the products by sizes, colors, materials, weight… whatever you consider relevant. You can even add an internal search engine


If you join a proper structure by category, with a catalog of attractive photographs and a good navigability for the user, you have a good chance of increasing your sales volume.
Adding products correctly to your online catalog
Adding products is not just about uploading an image, some text and validating your content. It is knowing exactly what you want to present to the customer. You must have a precise idea of the characteristics of your product and the way in which the information will be presented to your visitors
So, although it seems silly, don't leave it in the hands of just anyone. It must be someone who knows your product: price, weight, dimensions, features, specifications, details, brand, supplier… in order to be able to optimize all that information that may be of interest to the customer, as we mentioned in a previous point.
Making product combinations in your PrestaShop store
To create combinations you must set attributes and attribute values. For example make product combinations based on color or functionality. Each combination can have its own Stock, its own price and even its own images.
You even have prestaShop modules that do it for you, and it's a way to create special and create special and unique offerscombining products that only you know your target audience will be interested in (a target audience that you have to know perfectly well, of course)of course)
Illustrate your products in your sales catalogue
Since the customer does not have the option to pick up and see the product from all angles, include several images that have different views of the article that may be of interest to them.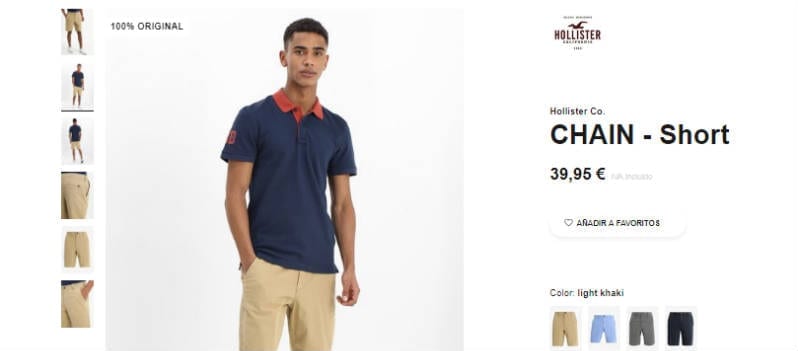 Another interesting technique is to create "product "scenes of products. To be able to do this, it is essential to have an image that includes the different combinations of a product or different products. In this image, you assign several clickable areas according to the combination, and so the customer will go to the page of that particular product or combination.
If possible, it is recommended that you use your own your own images. If you can't make them yourself, you should at least customize them in some waywith a phrase, an icon, a frame with the corporate colors..
Control the stock of your catalogue
In other words, make sure you always have your stock under controlby defining the stock available for each product. It is fatal to tell a customer who has placed an order that there has been a mistake and you do not have the item you wanted.
Manage the suppliers of your online store
Visitors to your online store should have easy access to the list of products based on the supplier, not just the brand. If you need to integrate with your supplier's catalog – or several – so you can update the stock every day, we can help you.
Tags are the keywords that your customer can search for. So ideally, you should associate your products with these keywords. This way, your customers can easily find the products they are interested in in your store and buy them!
Loading speed
Of course, the loading speed of the catalog is a must, a fundamental point of navigation (without it, the rest makes no sense). Do you want it to take less time to load? Don't worry, follow our 8 tips to increase your loading speed.
By following this series of tips, you will have a professional catalog, at least at the base. Of course, as always, creativity is your only barrier. You know your business better than anyone else, so you just need to know your customers and your competitors to develop the strategy that best suits your needs.
Having said all this, if you want to go deeper, let's focus and develop one of the strong points of any good catalog: the organization of products into categories. We mentioned it above, but there is much more to say
The product categories of your catalog
First of all, in order to group the products we have in our online store, we must understand the different ways in which we can do it.
The first is, as we have already said, the "Category", which will be the main grouping of our product and what the customer is going to choose first to find what he is looking forthe type of product. And from there, he will look for the specific model he really wants
It is important to keep in mind that a category can have subcategories within it, which allows you to create an orderly or "tree" structure, which allows you to have everything as organized and segmented as possible
But be careful it is not recommended to create more than 2 levels. Not only for simplicity and usability, but also because Google doesn't like elongated segmentations, as they create URLs of the same domain in a crazy way.
Categories and subcategories of products in your online catalog
If we decide to start making "branches", we have to start structuring the whole "tree" in a logical way. And this will depend on the type of products or even the type of user, the type of user.
For example, if we have an online store that sells fashion items, such as clothing and accessories, we could create a first level that is "MAN" or "WOMAN" and within them go creating the necessary categories for each type of clothing: "pants", "shirts", "dresses" …
However, we can do it the other way around, creating main categories by type of product and then make subcategories by gender or age. The choice will depend on your type of business, since it is possible that you have few types of products, but with many variants, or the other way around, many products and few variants of the same.
In any case, there is no immutable law in all this, because it will also depend on the type of ecommerce will also depend on the type of ecommerceMany stores are committed to segment products in ways that move away from the classic standards. This is very useful if we have a type of ecommerce that sells products that the customer is not specifically looking for
That is to say: let's imagine that we have an online store that sells gifts, in that case we can categorize by type of event: "Gifts for Father's Day", "Gifts for Christmas", "Gifts for Secret Santa"..
The idea is to put ourselves in the user's shoesThe idea is to put ourselves in the user's shoes, who doesn't know what he wants, but comes to see if he can find something. In this way we "pave" the way, and show them a whole range of varied products.

In order to arrive at an optimal categorization, you have to think of alternative search structures for your product. In other words, don't just focus on one and then try to improve it. It is better to create several catalogs depending on how the customer will search for your product.
The product families of your catalog
In essence, they are like categories, but with the products grouped differently. Let's see an example with an ecommerce of sports accessories
We could put the categories by product type: "racquet", "shoes", "balls", etc. And then, make another whole structure, which groups the products by type of sport: "tennis", "football", "basketball"..
Following this type of structure architecture, we can offer the customer more than one search typeThis will make it easier for them to find products and, above all, increase the chances that the shopping cart will grow, because by making it easier for the customer, they will probably find more products that interest them.
In this way we will create the so-called "taxonomies"which is another way of grouping the product. For example, if we sell wines or similar, we can group by denomination of origin: "Rioja", "Ribera del Duero", "Penedes", etc. Or by "red", "white", etc
Other types of product categorization in your online store
Price

A classic among classics, the categories by price. In sectors such as real estate it is simply essential. The categories of "opportunities", "second hand", "outlet"… are already a "must" on the Internet of e-commerce.

Place of origin

This applies especially to food products or alcoholic beverages, as in the example above. In these cases, the designation of origin becomes an important factor, to the point of being the user's main reference.
Conclusion
The best thing you can do is structure the catalogue knowing your customer and thinking about how they will search for your product. Not only when they are in your online store, but precisely when they are not. How will they search for your products in search engines? What terms will they use?
These should be your main indicators when building your categories and subcategories, as well as the different families of them. Organize the catalog thinking about the type of customer who is going to buy from us, how he thinks and expects to find things when he arrives from the search engine.
---
Need some help? Don't hesitate. Contact us and tell us what kind of business you have We have worked and developed so many types of business over the yearsWhile we won't be able to give you the magic algorithm that will allow you to get the most optimal categorization for your products, we will be able to advise you and show you the basic steps along the way.
Good ecommerce, eSellers!