WPO PrestaShop
Improve the performance of your store to rank on Google
Do we optimize the loading speed of your store?

If your store is very slow, you are losing sales and search engine rankings, it's time for a WPO overhaul of your PrestaShop online store. At Innovadeluxe we are a PrestaShop Platinum Partner. We have been optimizing the performance of hundreds of stores for years. We know what to look for, where and how to fix it to achieve optimal performance of your PrestaShop store.
What will we do to improve the loading times of your PrestaShop?
We optimize your PrestaShop loading times
If your online store is very slow and you are losing sales and search engine rankings, it is time to do an overhaul of both your store and the server where you have it hosted. This task can only be done by specialized technicians. Our PrestaShop experts will optimize your online store to reduce loading times as much as possible.

The optimization of loading times will influence the behavior of users on your website, making the dwell time longer and consequently reducing the bounce rate significantly.

In turn, that your online business has an optimal performance is one of the points most valued by Google to position websites in their search results. The time Google uses to crawl your website is limited, making an optimal loading speed essential for it to crawl as many URLs as possible.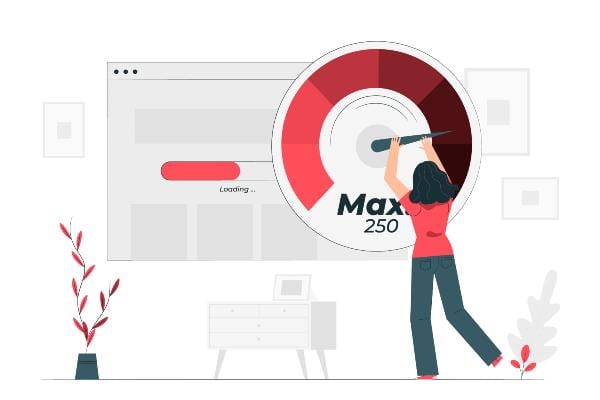 WPO audit, a complete report on your PrestaShop performance
At Innovadeluxe we will perform a global study of the project to check that everything is configured correctly. If not, we will implement the necessary configurations on your website to optimize loading times correctly.

Once the project has been analyzed globally, we will go into specific factors, such as the internal code of the website, key for organic positioning in search engines. As well as the study and optimization of the resources allocated to the server, to maximize the performance of your online business.

Once all the factors to be improved have been identified, the only thing left to do is to carry out the improvements to achieve the goals set for your project. Thanks to the high knowledge we have of PrestaShop as a Certified Agency and the years of experience optimizing the loading times of hundreds of online stores, we have ensured the success of our work.

What are you waiting for to maximize the performance of your online store? Leave it in our hands.
Request information
If you are looking for information to create your online business, you have come to the right place, explain to us what you need and one of our business consultants will contact you to advise you and prepare a proposal.
The more details you provide about your project, the better we can focus the proposal to fit your needs.
SPECIAL PRICES
We have special prices if you hire along with the creation of your store, service of SEO and SEM.