How to do International SEO
International SEO is something that many online stores work on either from the beginning of their strategy or when they have already reached a level of sales that encourages them to try their luck beyond their borders. And that's when it's time to consider an international SEO strategy.
However, in order to achieve this goal, you have to take into account many factors, some of them extremely important, which we're going to explain in this post. So let's start from the beginning.
International SEO. What is it?
First of all, of course, is to answer the question of what is international SEO. It's nothing more and nothing less than optimizing your online store to position it in several countries and/or in several languages.
That is, if your company is in UK but you also want to sell in Australia or open a market in Spain, you need to work and optimize your website to appear in the search results of each of those countries.
To know the results by country and thus make a first groping of the keywords that interest you, you can change the configuration of your Google browser. And choose that instead of English from UK, as in your case now, it is based on English from Australia, for instance. Or directly change it to another language completely different.
Is it necessary for your online store to be international?
The internationalization of a website, obviously, is not always necessary, or not always can be done at the time that the idea arises. Before taking this step, you have to take into account not only the work and effort that it may entail, but also the pros and cons that I will briefly explain below.
Advantages of having an international website
Growth in sales.
Creation of a stronger brand.
Increased prestige.
Diversification of products and markets.
Better resistance to crises, being in different markets.
Disadvantages of internationalizing the web
It's necessary to know very well the needs of each market and its target.
Increase of investment: more products, increase the number of employees, etc.
Different legislations.
Tax payments in different countries.
More development and investment in logistics.
The advantages are very good, you don't have to think about them too much. What you need to study more carefully are the disadvantages, and that is more a business issue, so we just wanted to draw your attention to it before you dive headlong into working your international SEO.
But if you already know that it's worth it and you want to do it, let's get down to business: international SEO and the factors to take into account to be able to do it successfully. That is, what you must do before anything else to have an international SEO strategy that works.
How to position in other countries
Many times, in countries that share a language, – even if they have many dialectical differences at a local level, – it can happen that you position in all of them without even having proposed it. For example, if you have a business in UK, when you enter Google Analytics or Google Search Console you can see that you receive visits from Australia, Canada, The United States… In the case of a website in Spanish for Spain, there will be visits from the Mexico, Chile, Argentina..
For instance, if you're a blog in USA, this could be the countries where your visitors come from. You can check them in Google Search Console: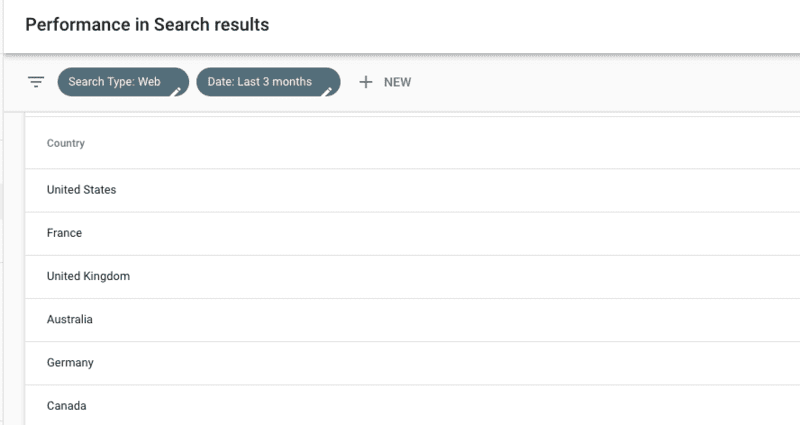 If this is the case, and you're seeing an important volume or have an interesting conversion rate in certain countries, you can consider optimizing your SEO strategy to better reach these international destinations taking into account the 4 points that I indicate below.
Country-specific keywords
Surely you already know, or at least you can imagine, that selling cars in UK is not the same as selling cars in USA. Or shampoo in UK and shampoo in Spain. To overcome this barrier and reach your target, it's important that you do a keyword research oriented to each country.
The keyword research tools themselves give you the option to geolocate the searches and therefore you can do a keyword research for UK, another for Australia, another for the United States… This is what happens in KWFinder and Ubersuggest, whose screenshots you can see below.

And above all, as a tip, take a look at the stores in the sector in those countries, look at your competition, because they will give you many clues about the keywords to use. Remember that there are even tools that allow you to know the keywords for which a website is positioning. So the first thing you have to do, if you sell – let's say – eye shadow, is going to your competitors' stores in the countries you're interested in and see exactly what terms they use there to sell that product.
Original content for each country
If they're countries that share the same language but with local differences (English in UK, in Australia, United States…) if you have separate stores, it's clear that you should write content for each one, focusing on their own keywords.
But other times, it turns out that using the same keyword is enough and the content is positioned in several countries, as is the case of the example that I included before (although the search volume is higher in one place than in another) Or when you simply don't have the stores separated by countries of the same language, so it doesn't make sense to write and upload several contents.
In this case, what you can do is to include the different variations of the keywords in the text, since in reality, the search intent is the same.
The other case is that they're countries with totally different languages: Spanish, English, German, Portuguese… Obviously, here you must have separate stores and each one with its specific content. Without literal translation of sayings that make no sense in the other language.
It's true that sometimes, due to lack of resources or time, automatic translators are used. Some of them do a good job, but it's always advisable to have a person who speaks that language to review the content and correct any possible mistakes. It's important, both for the user and for Google, to use natural language to rank better.
Do content marketing with international SEO
This is a logical consequence of what we mentioned in the previous point. And while we've spoken while keeping the content of the store in mind, there's also a very important factor that shouldn't escape us: the blog, which in most cases can represent up to 70-80% of traffic in an e-commerce.
For example, if you're a store in UK that also sells in Australia, and you know that a specific term is trending there, you can perfectly do a post based on the keyword research of that term, specific to Australia. As long as it doesn't cannibalize other existing content that has the same search intent.
And of course, if it refers to a specific product that you don't have yet, you can add it to your store and include an SEO text focused on that search intent and that keyword, but more oriented to the purchase and not the information, as it would be the keyword used in the blog.
This is a crucial point, not only in international SEO but SEO in general: the strategy and content marketing of your store and blog should be complementary. Remember that many people will get to know your brand thanks to the information you offer on your blog, and you'll be able to lead them to your store with a well-crafted content.
Define your customer according to their country
This is another very important element. Behind the search volumes, behind using different variations of the same keyword or using it in completely different languages, there are people. And we have to know these people – our target – and their behaviour when it comes to selling them a product or covering a need. It's not about making a store in different languages and that's it.
I'm going to make up an example, so we'll see it clearly. Imagine you sell carpets. In UK, let's imagine that carpets are bought online without any problem, because they are used on a day-to-day basis, stepping on them in the entrance of the house, in the kitchen, etc. However in USA, where carpets are also sold very well, the use they are given is more decorative than anything else. So it will more difficult to sell them online, even though they are sought after a lot – but mostly they end up going to a shop to buy.
Neither the way to approach the content is the same for both, nor the way to present the product on the web. Not even, if we think about details, the customer service will be the same: maybe in UK you don't need a chatbot for the carpet store, but in the States you do, because you have to solve many doubts before they decide to buy it online. Or you have to offer bigger discounts to incentivize the purchase…
All these details about the habits and peculiarities of a target can be and are key to success. Maybe the design of your store is spectacular, the translations of the contents are great, but… are you treating the customer of each place properly?
I repeat: we must always think that everything we do, is for the customer. If you don't base your SEO strategy – and your marketing strategy in general – on your target, it won't work.
Take care of the web structure
Once we have carried out the previous steps, it's time to get into more slippery ground: the web structure of your online store.
Everything I've told you so far is a bit oriented on working international SEO that arises as an opportunity. But be careful, because if internationalizing your store is something that you have very clear you want to do from the beginning, the first thing you have to think about is if you want a multistore, if you want separate domains, etc.
For example, if you're determined from the beginning to sell in different countries, a good way to position yourself is to buy the domain with the country code: onlinestorename.uk, onlinestorename.es, onlinestorename.it, onlinestorename.mx, etc. However, keep in mind that each store or website will have its own SEO optimizations to carry out, as they're totally separate. So it will be double, triple, etc. work.
If you want to avoid this, another way to work international SEO is to make subdirectories by languages, ie: onlinestorename.com/pt, onlinestorename.com/it, onlinestorename.com/uk and so on. The good thing in this case is that all the (technical) optimizations you do at the domain level, apply directly to the subdirectories.
But at the same time, if you neglect the contents in certain stores or subdirectories, the overall quality of the domain in the eyes of Google will go down, as it's calculated as an average of everything you have under it. That's why I told you before to think it through, because what in principle may seem like an opportunity, if you don't work it properly, can end up being detrimental.
In any case, I will talk about the technical factors for the internationalization of your online business in a future post, because I think it's better to separate the two concepts. On the one hand, to be clear about how international SEO works as a strategy. And on the other hand, to know what optimizations you need to make at a technical level to be 100% successful in your international SEO. But this first reflection on the web organization is very important in terms of how you approach everything else, so I wanted to leave it already explained here.
Conclusions
As you can see, personally, I think that before you just start considering having several online stores for different languages or even countries with similar languages, you have to study the market carefully. You need to know the expectations, opportunities you have and the volume of work that it will entail and if you can afford it right now.
That's why in this first post, I've talked more about content and people than anything else. But once you have this clear, then yes, we can talk about what you need to do to sell your store in other countries, so stay tuned!
And of course, if you're looking for an international SEO agency, don't hesitate to contact us.